Sleighbell Tree Farm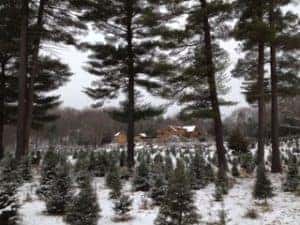 Established in 1996, the Sleighbell Tree Farm in Sutton, MA, has become an integral part of the holiday traditions for local families. The vast field of trees to select from is the main attraction, yet the farm has plenty of other holiday gifts and favorites to consider.
With each passing year, the next crop of trees grow, getting larger and sturdier, all the while waiting for the right home to settle into. So when it comes time, gather your family or friends and spend awhile browsing the Sleighbell Tree farm lot for the right fit!
Trees, Trees, and More Trees
Ranging from just a few feet for small decorations to over 10 feet in size, the trees at Sleighbell Tree Farm have immense character. The cut-your-own tree field is one of the prize attractions as families sort through a wilderness of opportunity. If you prefer, you can take home a pre-cut tree ranging from 6 feet if height to as much as 12 feet. There are also the table top, pre-cut trees which can be had in sizes from 2 feet to 5 feet.
Wreaths, Greenery, and the Gift Barn
Extra tidings come into play at the Sleighbell Tree Farm, too, helping your holidays have that extra-special feel. Wreaths and other greeneries are among the most popular. You can hang these decorations on a tree, somewhere within your home, or give them as a holiday gift.
Speaking of gifts, the gift barn is going to be another part of the overall venue you'll want to stop into. Located in a festive log cabin, the gift barn has an abundant selection of holiday-themed items, perfect for any wish list. If you have questions about the gifts or even the trees located in the field, the welcoming staff will be happy to assist!
Visit Sleighbell Tree Farm
The holidays lose something along the way if you don't hold onto valued traditions. So make an annual trip to Sleighbell Tree Farm part of your family's gathering. If you want to learn more about the farm, check out their Facebook or Instagram pages!