Battery Service

Your car's battery is one of its most integral components. If you're looking for battery service in the Worcester, Auburn, and Shrewsbury, Massachusetts, area, come to Harr Chrysler Dodge Jeep Ram (CDJR). We have an on-site service center where we tackle anything your car needs, including battery services.
Keep reading to learn more about your car's battery and how to recognize the signs that you're due for service. Then, schedule a service appointment!
Car Battery Replacement near Me
Signs Your Car Battery Needs To Be Replaced
---
What Does a Car Battery Do?
Your battery powers all the electrical components in the car, which includes the radio, lights, and power windows. More importantly, though, the car's battery also provides the initial spark of energy required for the vehicle to start. No battery? No driving. So, it's safe to say that it's very important to keep your car battery in good condition and replace it when it starts to degrade.
Over time, your car's battery will become less effective and eventually stop working, much like the AA batteries in your TV remote. In general, a car battery lasts about three to four years depending on your vehicle and driving habits. At that point, it's easy to schedule a battery replacement at our service center.
---
Battery Services at Our Dealership
At our dealership, we have a team of factory-trained and -certified technicians who work in our on-site service center. These automotive technicians know your vehicle inside and out, and they're equipped for all kinds of battery services, including:
Maintenance
Replacement
Testing
In addition, the technicians at our service center only use original equipment manufacturer (OEM) parts. These are the same exact components installed in your vehicle on the original assembly line, so they're more likely to be exactly what your car needs to operate at its best for longer.
Keep reading to learn more about how your car battery works and how to tell when it's time to schedule battery service with our team.
---
How Do I Know When to Schedule Battery Service?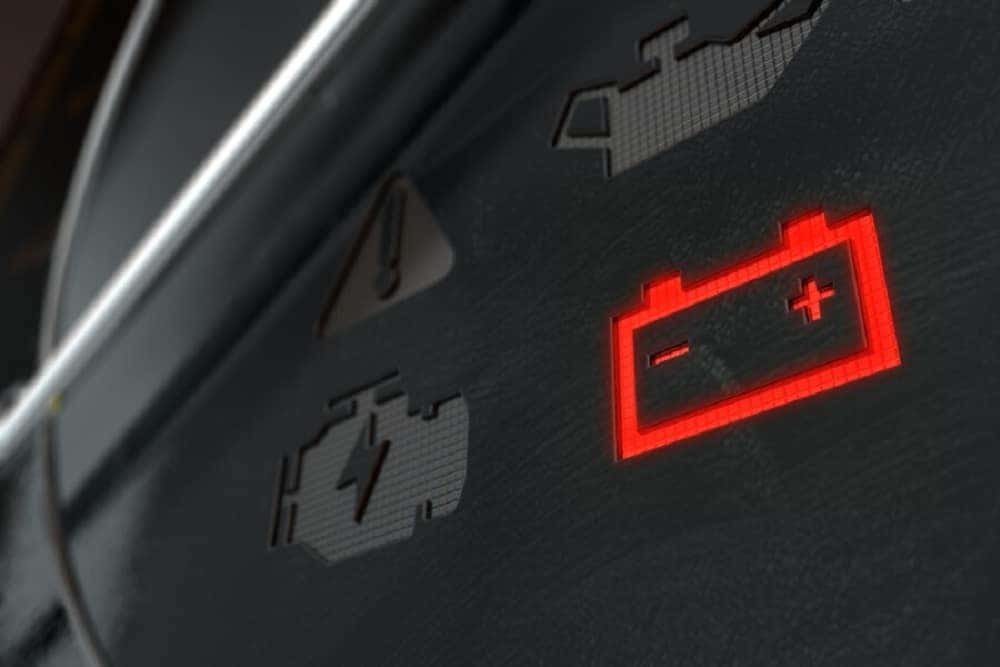 The factory-trained technicians at Harr CDJR are always available to handle your vehicle's battery service, whether you're having other maintenance done or in on a visit just for that purpose. Between visits, you can do your part by regularly taking a look under the hood and watching for telltale signs of trouble. Luckily, the warning signs of a declining battery tend to be fairly obvious.
There are a few symptoms you can look out for that indicate you may be overdue for battery service soon. Some include:
You need a few tries to get your engine to start.
Your lights are dimmer, even when on full power.
You notice swelling, corrosion, and/or buildup on your car's battery.
While all of these warning signs indicate a need to schedule service, a bulge in the battery case is the most worrisome, as it can mean the battery is overcharged from an electrical issue or a buildup of gases. If you notice this condition, do not drive the vehicle. Have it towed in for service immediately, and our technicians can safely take care of it.
---
How Do I Check My Battery?
We recommend changing your battery before it dies completely, so it's helpful to know how to check up on its health.
One way to assess your car's battery is by checking its age, since it lasts about three to four years.
To find out the month and year the battery was manufactured, look for the series of characters on the top of the case.
It will start a letter indicating the month (A for January, B for February, C for March, and so on). The second character will be a number representing the last digit of the year the battery was made (0 for 2020, 1 for 2021, 2 for 2022, and so forth).
So, if your battery case reads "B-1," it's from February 2021, and it should be good for a few more years!
It's also possible to check the charge of your battery from home using a multimeter. This tool attaches to the positive and negative battery terminals and reads its charge. Anything under 12.2 volts indicates that you're due for a new battery soon.
Of course, many drivers also come to us to get their battery checked. We make quick and easy work of battery services, so it's easy to fit maintenance into your busy life.
---
How Can I Prolong the Lifespan of My Battery?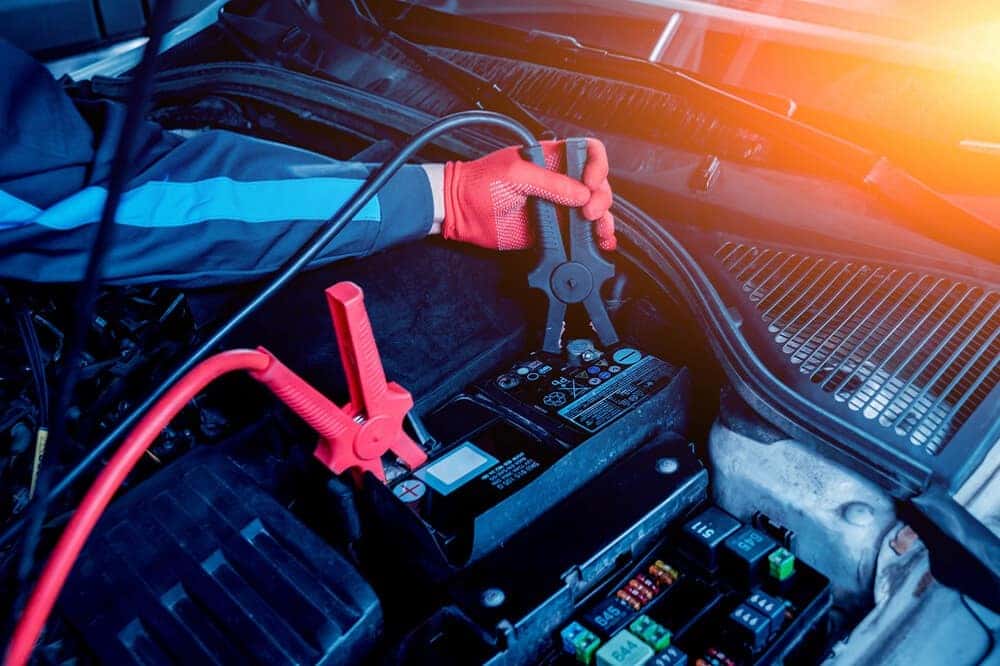 There are many factors that affect how long your battery lasts, and the two main factors are the climate you drive in and how you drive.
New England winters are famous for their intensity, and batteries are especially stressed by this season. It can take up to 60 percent more power to start a car when it's cold outside.
Of course, you can't control the weather, but you can counteract its effects with driving habits that can help prolong your battery, such as:
Avoid driving very short distances frequently. This puts more stress on your battery without giving it time to recharge.
Take it out for a spin regularly. If your car sits unused for long periods of time, the battery loses efficiency. As the saying goes: Use it or lose it.
Minimize the power you're using while the car is off. For instance, leaving your car's interior lights on overnight can drain the battery.
---
Schedule Battery Service Online
If you know your car's battery needs to be replaced, or you just need help testing it, the experts in our service center are here to help with whatever you need. At Harr CDJR, part of our commitment to service means streamlining every aspect of the car-ownership experience, which includes working to keep your car in excellent condition for years to come.
If you're a driver in the Worcester, Auburn, and Shrewsbury, MA, area who needs battery service, schedule an appointment today. We look forward to helping you!